If you want to learn more about us, you're in the right place. Read to learn how we managed to grow our website.
In the about us section I would like to tell you, TRULYEXPLORER would be a first of its kind online portal. It attracts those who love to explore things whether it's New place, Newly arrived tech, new cars, and everything else. 
On the about us page I would like to tell you, TRULYEXPLORER distributes incredible things, that identify with each and every individual who loves to travel, feel nature. Subsequent to visiting this page you will understand that it's not just a Travel channel but also give you refreshes about new and forthcoming technologies.
MIND BEHIND THE TRULYEXPLORER
The psyche behind the TRULYEXPLORER was a basic video that I made during the travel which was valued by many individuals. I made that video and transferred it to the channel. Then I understood that it's the most ideal approach to make my Content everlasting for me and others.
HOW IT STARTED
I contemplated this webpage years prior, yet couldn't capable make it live on the web. Scarcely a few days back I got the opportunity to make a site during my Digital Marketing Course and afterward, I thought its the best thing to work on.
ABOUT FOUNDER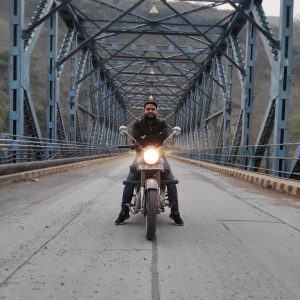 EARLY LIFE OF ROHIT BHAWANI
I was brought into the world on 18 Oct 1993 at Bilaspur, which an exceptionally small town in Himachal Pradesh. whose Boundary contacts with each known locale of Himachal Pradesh i:e Shimla, Mandi, Hamirpur, and Solan. My Mother and Father are both Govt Employees In the Heath office and HRTC individually.
QUALIFICATION
I have done both of my Academic and Professional qualifications from my town Bilaspur. I have done bachelor's in Mechanical Engineering under the Affiliation of Himachal Pradesh Technical University. After that, I began functioning as Sales Executive in Dev Bhoomi Hyundai. From where I began getting keen on vehicles.
INTEREST AND HOBBIES
Fitness-A people say health is wealth so I also keep eye on my physical health and love to go to fitness centers.
Traveling and Trekking-I love to do travel and journeying. The longest trek I have ever climbed was the Shrikhand Mahadev Trek that is at the height of 18150 mts from sea level.
Playing Guitar-it wasn't my sort of thing until lockdown starts on 23rd march 2020.
New Tech Arrivals-I loves to watch the most recent tech Videos, new smartphones, and new gadgets.
Exploring New Things-I love to explore every little thing whether it's a toy car or anything enormous. I am always curious to see what inside.
Do it by yourself Things-If anything Breaks I don't go to the Repairing shop first. I love to do it by myself first.
PERSONAL LIFE- if I tell you about me I'm as of now spending whatever number of hours as would be prudent on TRULYEXPLORER to make it arrive at the next level. Because TRULYEXPLORER is the best thing that ever happened to me and I am loving it. 
FUTURE
There is an old saying "Yesterday Is History, Tomorrow is Mystery but today is the Gift that's why we call it present "so I accept to live in present, no one has at any point seen the future and additionally, time is relative so I prefer to live in present.