The Shrikhand Mahadev trek is a pilgrim trail that leads to the Shrikhand Mahadev peak (5,227 meters/17,150 ft.), named after Lord Shiva. The key attraction of this trek is the breathtaking view of the Himalayan ranges from the Parvati valley.
Brief Description of Shrikhand trek
Shrikhand Mahadev Is a trip to the Kullu Valley of Himachal Pradesh. It's considered quite the hardest track in Himachal Pradesh. If we talk about Shrikhand Mahadev trek km, it's 70kms that requires a rough multi-day to finish the entire track. In the primary portion of the trek, you will see the mountains covered with trees and greenery that are satisfying to the eyes and in the second half, you will see enormous ice sheets. The view from the Shrikhand Mahadev is paramount that no one can forget.
Journey To Shrikhand Mahadev
I will explain my journey to Shrikhand Mahadev in days.
Shrikhand trek Day 1
JAAON VILLAGE:
Here we go! The trip begins from the Village Called Jaaon that is situated in the Kullu locale. You can reach there Either from Shimla or Kullu district of Himachal Pradesh. You will begin noticing an extraordinary perspective on greenery from here. This is the First Step From where the trip to the Shrikhand Mahadev Starts.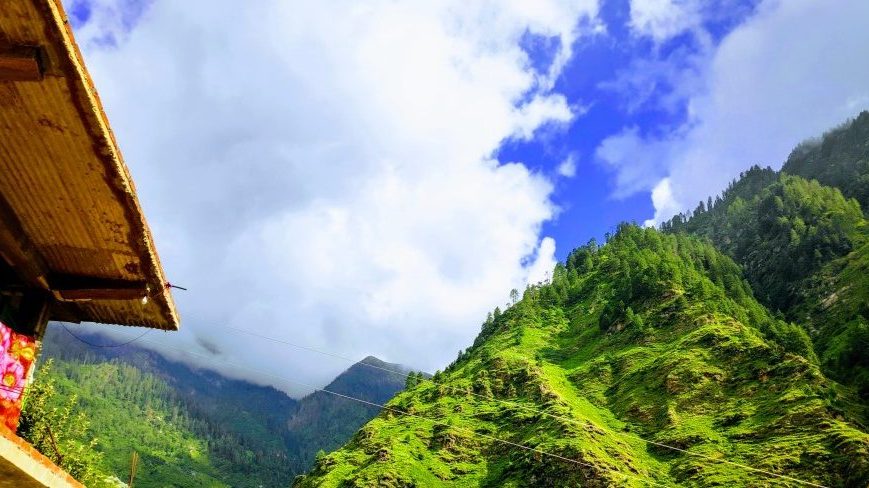 JOURNEY TO SINGHAD:
Singhad is a basecamp while going to Shrikhand Mahadev trek. Singhad is around 3 km from Jaaon town. This is a camp where all the individuals enlisted before beginning the track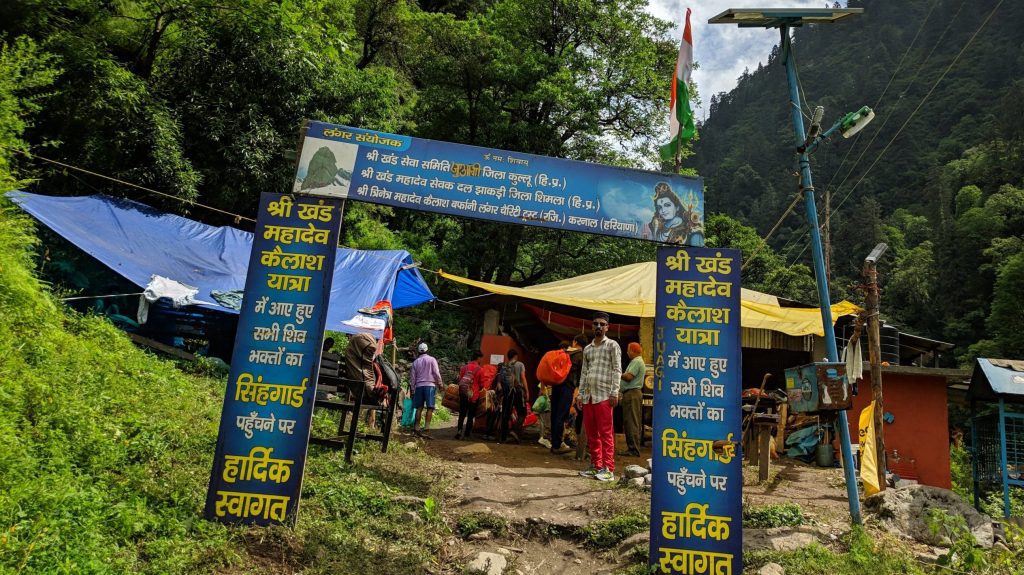 In Singhad govt. authorities take a clinical check of the people and scribble down their names and addresses along with their working telephone numbers in case of any emergency.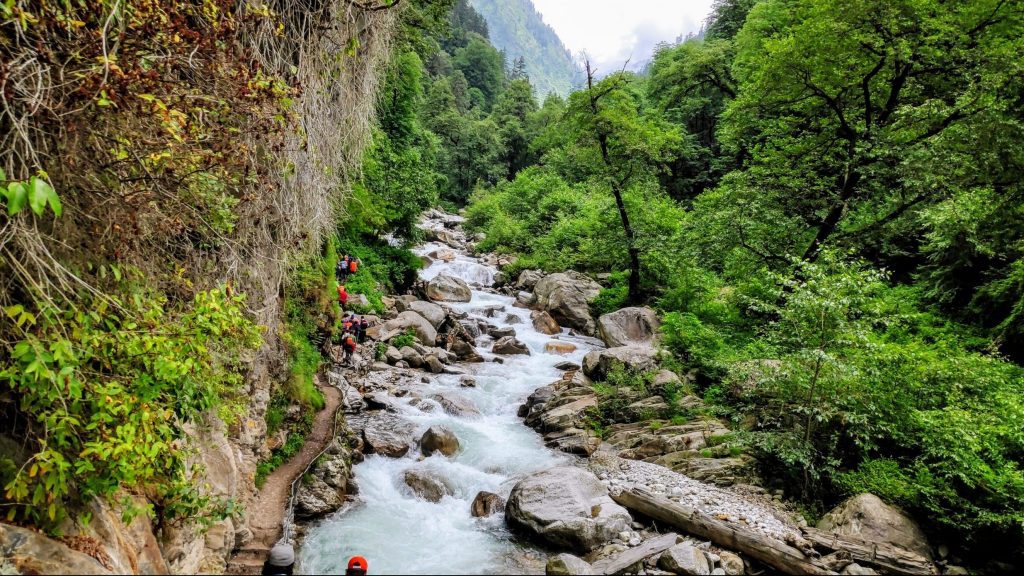 BARATINALA:
Baratinala is the next station that is around 2 km from Singhad. You will see an exquisite view while going to Baratinala which incorporates cascades and mountains.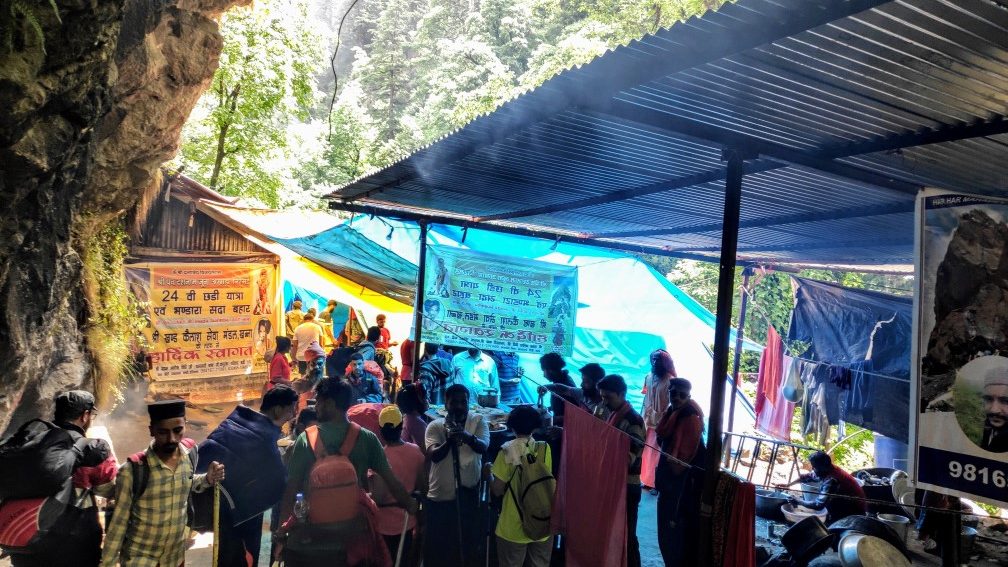 In Baratinala you will find that a group of peoples offering free snacks to the pilgrims who are trekking to Shrikhand Mahadev. As most locals religiously treat this track so they offer free services of saying there.
THACHRU:
This is the place where the fundamental trip starts. As you begin moving ahead you will begin to see that man-made ways are disappearing. After a couple of km, you see that you have to begin climbing ascending mountains. As you climb more the woodland are getting denser. You will begin feeling shortness of breath as you climb more. The only thing during this is an extraordinary perspective on lovely mountains.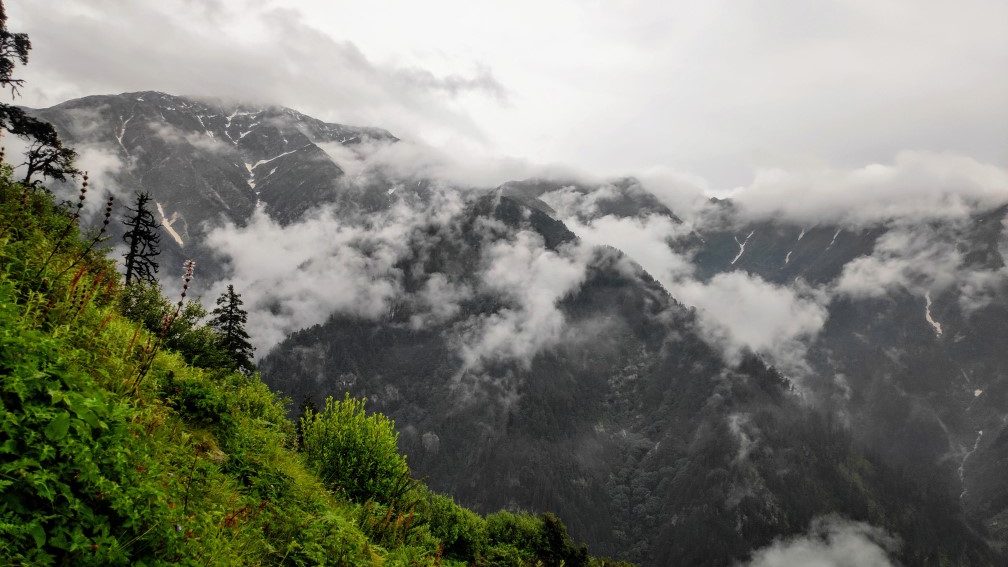 Thachru is the toughest part of this trek because the climbing is now steeper. Thachru is around 10 km from the Baratinala. And this part of the trek is very steep. You find various camps while trekking to Thachru. You can stay and eat there. If you feel exhausted you can borrow tents on a rental basis. But most of the people climb till they reached Thachru.
When you reached Thachru you can see that there are a lot of tents available there for the night stay and you can get tents at the minimal rates of INR 300rs for a person. They will also provide dinner at the same price. A lot of people also provide free food to the pilgrims. You will spend the first night at Thachru and that's the end of the first day.
Shrikhand trek Day 2
KALI-TOP:
Waking up at Thachru you will start your journey to the kali-top that's around the height of 13000 ft. from sea level. It's around 3kms from Thachru. The journey to the kali-top is not that tough you climbed till Thachru. There is a lot of greenery on the way to the kali-top. As you approach towards kali top you will start to feel breathlessness due to the lack of oxygen. You can also find small snack shops there on kali-top.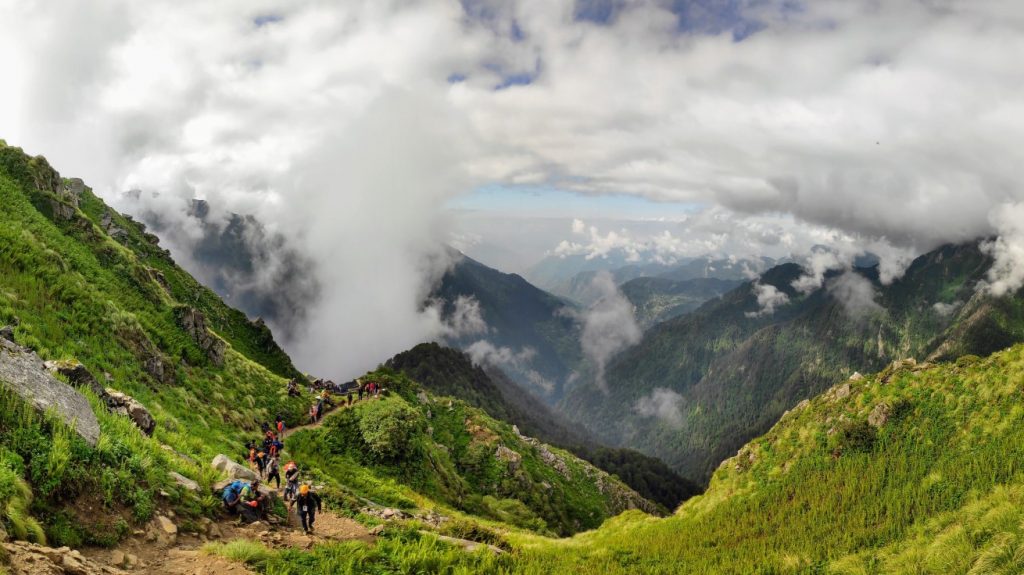 BHEEM TALAI:
Next stop is Bheem Talai. It's around 3 km from the Kali-top.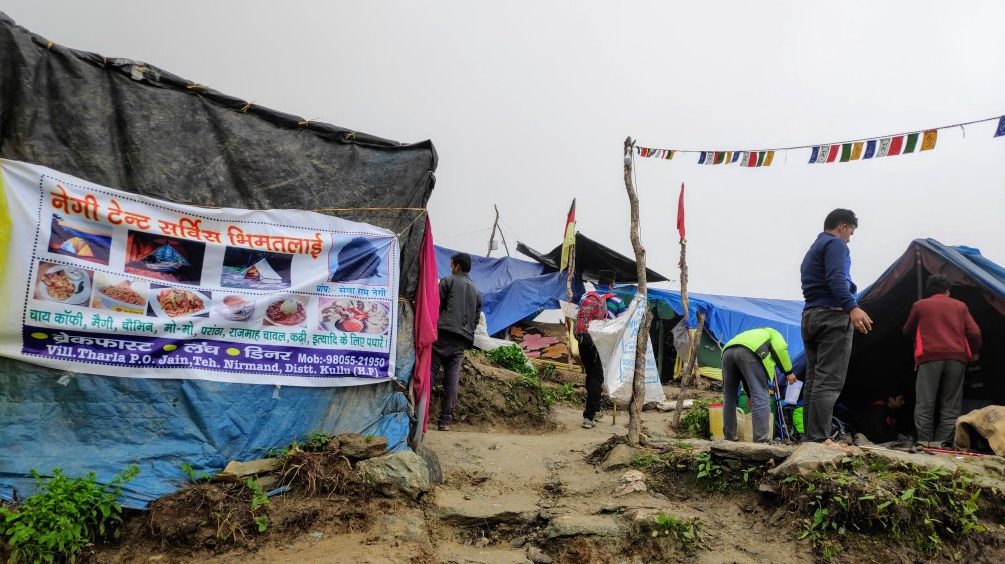 KUNSHA:
Kunsha is the next stop after Bheem Talai around 2 km from the bheemtalai. Here you can also find various tents and camps for the night stay.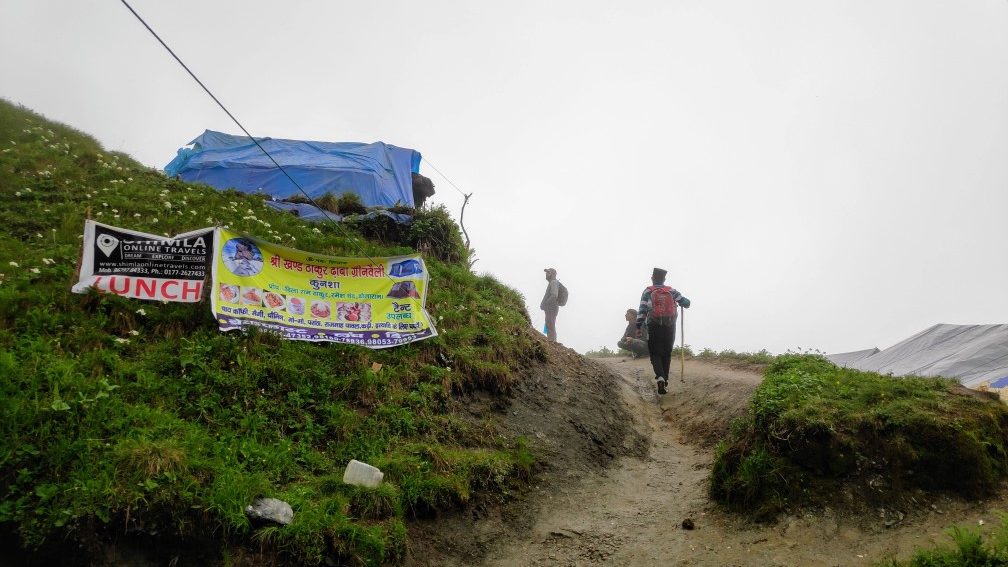 BHEEM DWAR :
Bheem Dwar is the next stop during trekking. it's around 3 km from the kunsha. You will also find a large number of tents there because a lot of people do their night stay there in Bheem Dwar but at a little higher Prices. Like you will find a single Paratha Around 50Rs and Tea for 25Rs because it became quite difficult for shopkeepers to bring all Rashaan so it's quite reasonable prices. This is the end of the 2nd day.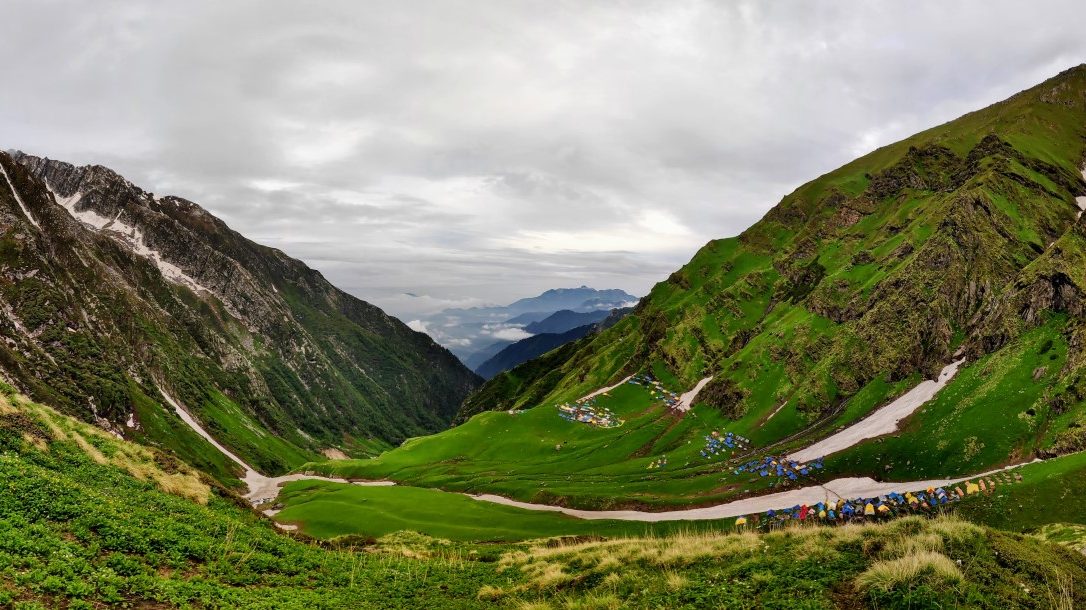 Shrikhand trek Day 3
PARVATI BAAG:
Parvati Baag is around 2 km from Bheem Dwar. On day 3rd you need to start trekking at 5 AM because a round trip to Shrikhand Mahadev is around 14 km which you have to complete the same day. All the greenery now starts to do fade away as you reach Parvati Baag and starts seeing the Icy Mountains.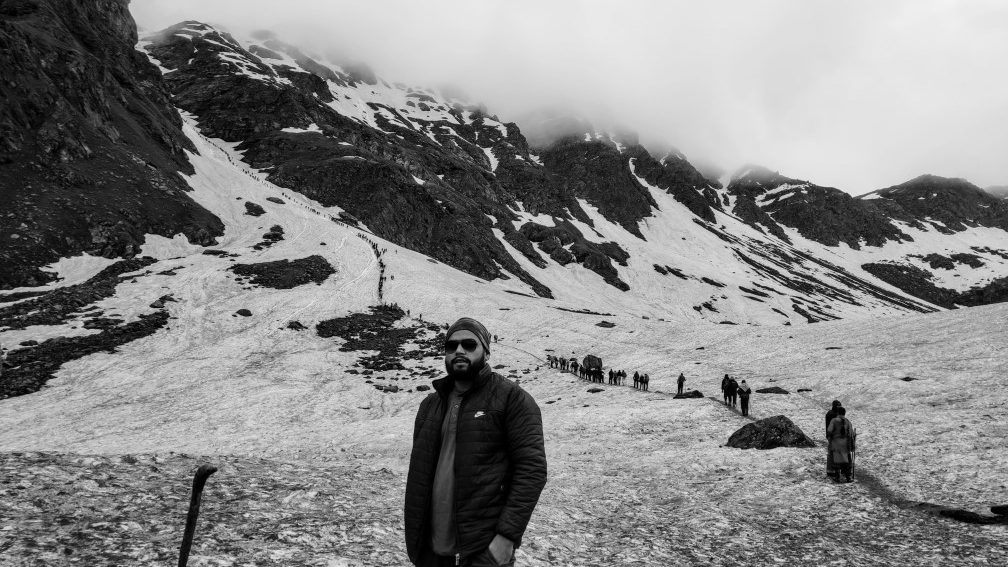 SHRIKHAND MAHADEV :
The journey to Shrikhand Mahadev from Parvati Baag is 5kms. The trek to Shrikhand Mahadev is covered with steep glaciers.
Doing the trek for around 4-5 Hrs you will reach a holy place for all the pilgrims That is Shrikhand Mahadev. Shrikhand Mahadev is at the height of 18150 ft. from sea level. Standing at the height of 18000 ft makes you feel like you are at the top of the world and the view from there is kind of once in a lifetime.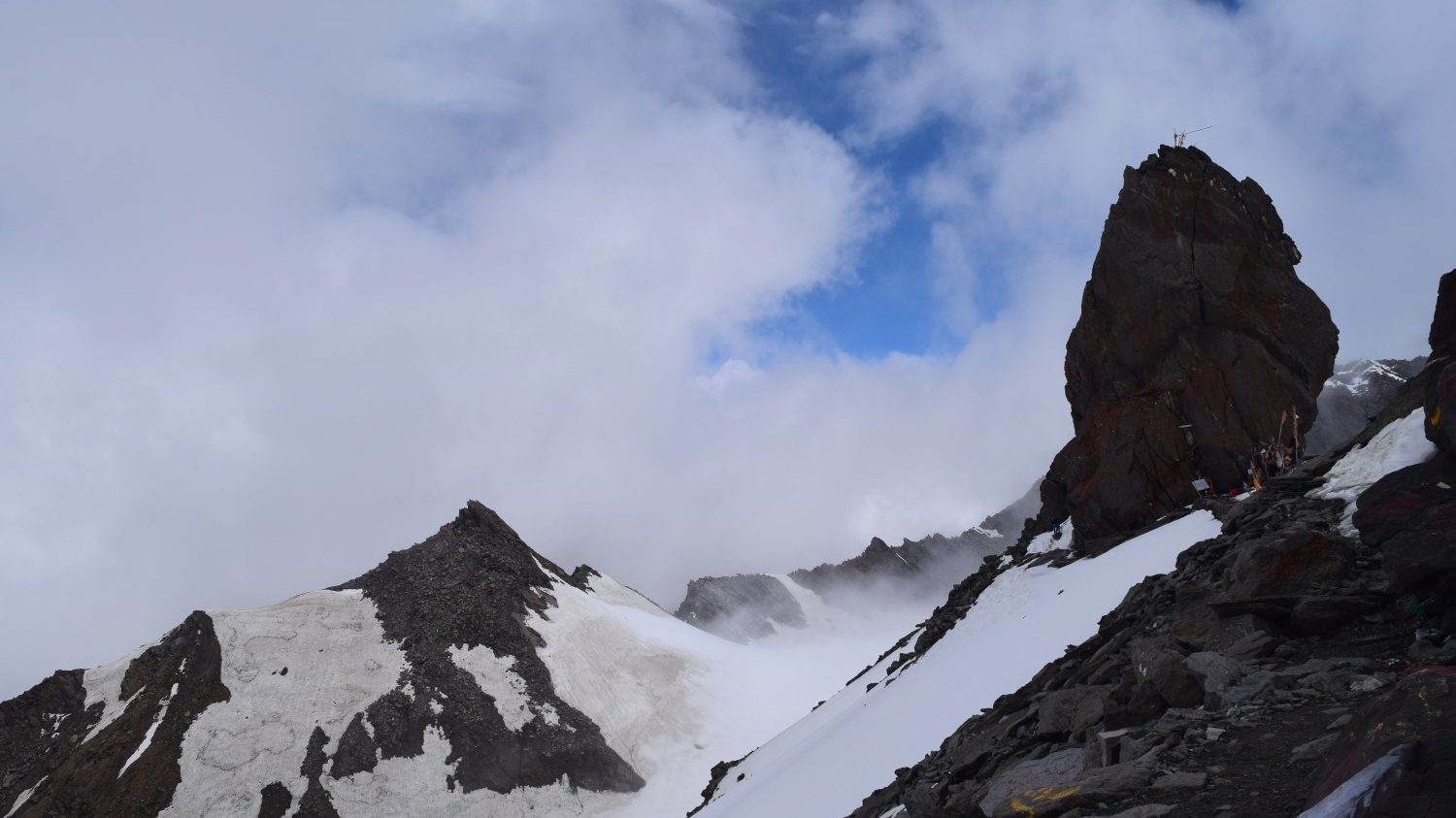 After visiting Shrikhand Mahadev you have to climb down to the Bheem Dwar as soon as possible before sunset. Because due to glaciers temp starts falling down very rapidly. Reaching Bheem Dwar you can stay there again in tents and that's the end of the 3rd day.
On Day 4
One day 4 you can climb down to Jaaon in one day. Although it's quite difficult if you start climbing down around 5 AM you will reach Jaaon Village at nearly about 6 PM.

Shrikhand Mahadev Trek Cost
Shrikhand Mahadev Trek Cost around 10000-12000 per person including everything from Singhad to Shrikhand. But if you can manage it in 5000-6000 easily if you don't bring potter and guides with you. Because in most of the location Tents are already available at fair prices.
If you are bike rider and interested in the Ultimate Guide For Your Motorcycle Road Trip, Please visit Theincompletediary
Gallery
[transitionslider id="1″]